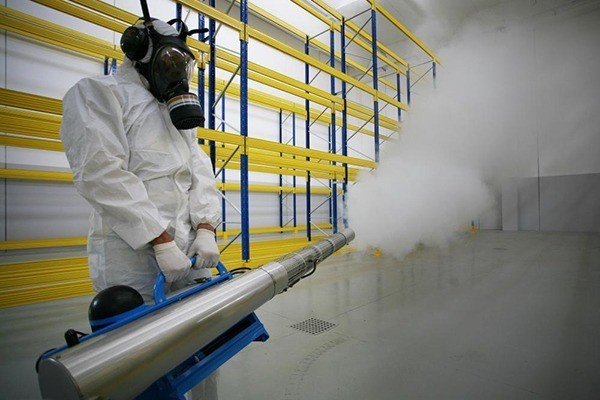 Fumigation Singapore
When infestation gets out of control and not eradicated by manual methods, you should consider fumigation Singapore.  With it, even the hardest to reach places can be accessed and fumigated to kill pests that can hide for as long as they want but cannot escape.
It's an effective pest control method in this country where pests dominate and affect families and business owners all year round.
What is fumigation?
Cockroaches, termites, and bedbugs can hide in impossibly accessible places like small cracks holes and crevices, and so on.
These insects can also be where you have set up poisons and traps.
In short, pests can be all over the place, making it time-consuming to use manual and spot treatment methods especially when there is already a heavy infestation.
Fumigation is an effective and powerful treatment process to get rid of heavy and widespread infestation that isn't solved by other techniques, making use of specific NEA-approved chemical fumes.
This process can be time-consuming and lengthy because it involves preparation and treatment execution. That is why only the NEA-certified experts undertake this complicated task.
Only trained and seasoned professionals perform it due to the process involving pest lethal gases, which eventually suffocate and kill insects in your car, workplace or home.
Fumigation is executed based on the pest type and time it takes due to the dangers that come with it.  This treatment can be the last resort for infestation of any of the following –
Bedbugs
Termites
Fleas
Cockroaches
Rodents
Mosquito
The treatment process is effective and potent, resulting to wide kill-zone coverage.
Benefits
Fumigation is the fastest and widest-coverage pest control methods to eradicate rodents, cockroaches, and mosquitoes, to name some. It can save you money and time because it works fast and is efficient.
This pest control also works not just for homes but also for cars. There are car fumigation techniques to perform on vehicles infested by bugs and cockroaches. It's the quickest way to reduce their population in your vehicle.
Process
Fumes can get even in the smallest holes, cracks and crevices, common hiding places of small insects like mosquitoes.  They're effective for use in every side of your home, office, car or business premise.
Fumigation chemicals can destroy the insects from eggs to their adulthood. They're measured accurately by the pros who know the exact amount needed to destroy the type of pests.
Fumigation Singapore services require properties to be sealed while fumigating and until completion.
While the pros fumigate your place, everyone needs to evacuate for a certain time period to avoid any toxic fumigant from harming someone. The place is also left to absorb the chemicals, so evacuation is essential.
Features of fumigation
Imported fogger
Non-staining formula
Can kill baby and adult insects
Not a fire hazard
Effective and safe
Versatile for most types of insects that also include flies, flea and common roaches
Can be used for car interiors
No oily residue
Licensed applicator and NEA-approved fumigator
The experts can also help in pre-shipment fumigation and ISPM 15-compliant quarantine. They can also perform seagoing pleasure crafts and post-harvest stored food fumigation.
Licensed pest control experts also cater to different industries like shipping, freight, storage, and food manufacturing industries.
These pros can also help in cargo treatment loaded on barges, vessels, and containers in logistics centers and ports worldwide.
The processes used are in strict compliance with the authorities as well as with national/international legislation.  They're also best practices following quality and safety standards.
Where To Get Fumigation Singapore
For effective, efficient and safe fumigation services, choose Simon Jr. pest control. We're your one-stop pest control team with knowledge, training, and license to perform fumigation services for homes, offices, seagoing vessels, warehouses, cars and so on.